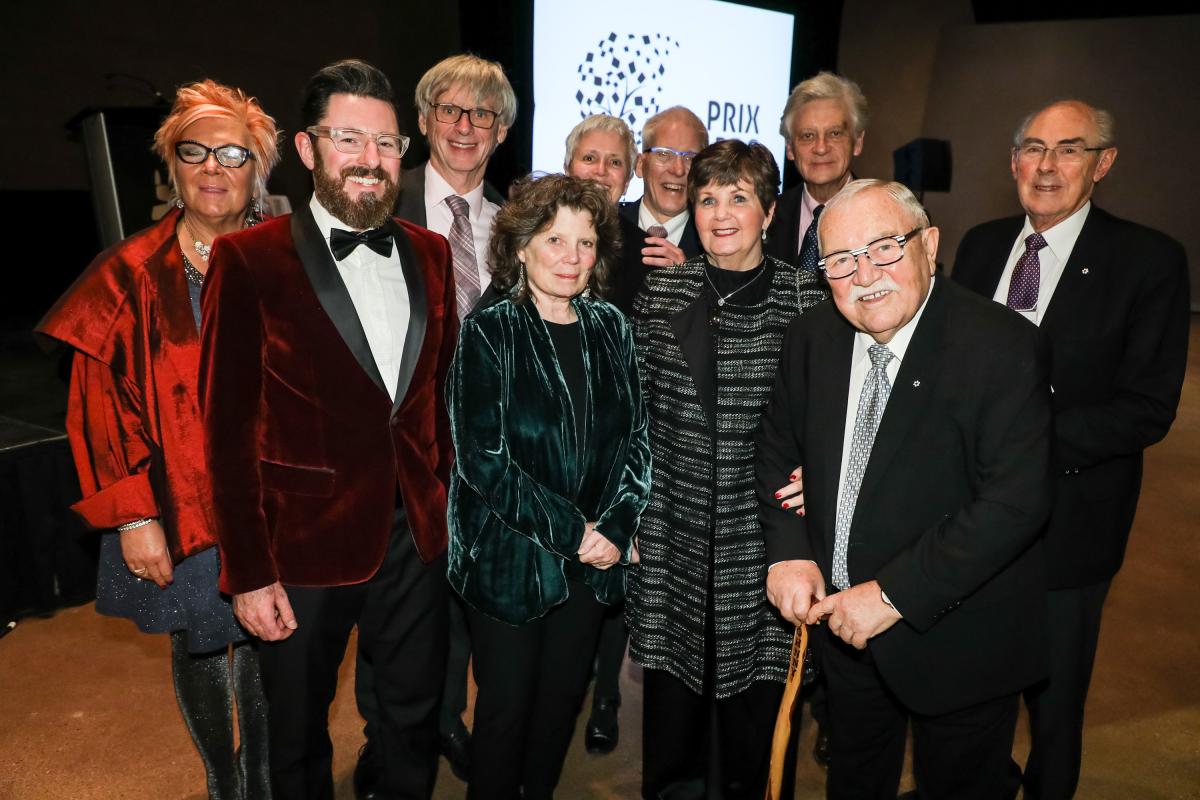 In 2017, the Canadian Network for Arts & Learning launched our Gala Awards, which took place as part of our biennial international conference. These awards recognize three individuals and/or organizations for lifetime achievement, leadership excellence and innovation in arts and learning. In 2019, we added the Community Builders award.
Lifetime Achievement Award
The Lifetime Achievement Award recognizes an artist, educator, ensemble or leader as an agent of social change through the arts by leading in thought, creating bridges, building community and sustaining profound artistry.
2019 recipient - Dr. Judith Marcuse
2017 recipient - Susan Aglukark
Visionary Leadership Award
The Visionary Leadership Award recognizes dedicated, innovative, and selfless service to Canada that sets an example to all of us as to how we can improve lives and communities through education, creativity, the arts, and compassion.
2019 - Gail Asper, OC, OM
2017 recipient - Bob Rae and Arlene Perly Rae
Impact of Learning Award
The Impact of Learning Award recognizes leadership in education, research, pedagogy and innovation in the field of arts and learning, with a commitment to students as talented performers, creators and scholars across Canada and around the world.
2019 recipient - Wanda Koop, CM, OM
2017 recipient - National Circus School
Community Builders Award
The Community Builders Award recognizes an extraordinary commitment to supporting the development and creation of innovative, challenging and unique spaces or programs to address a community's cultural, medical or educational needs.
2019 recipient - John and Bonnie Buhler
TRIBUTE DINNER
From 2008 - 2015, The Canadian Network for Arts & Learning hosted a Tribute Dinner in conjunction with our National Conferences. We have had the pleasure to honour some of Canada's most esteemed artists and supporters of arts and learning. Here is the list of honorees.
2015
Peter Herrndorf, President and CEO, National Arts Centre
Peter Herrndorf's lifelong commitment to the arts is an inspiration to all Canadians. Since taking on the challenge o leading the National Arts Centre/Centre National desArts in 1999, he has played a transformational role and staunchly upheld a vision of a "National" performing arts centre that lives up to its name. In doing so, he has developed a pan-Canadian centre of excellence that sets high artistic standards, showcases the best of talent from all regions of the country, and brings the performing arts to Canadians from coast to coast to coast.
His core priorities include an unwavering dedication to championing youth engagement and developing the next generation of artists. Through his inspired leadership and ability to attract public and private support, he has enabled performing artists to connect with communities across the country and empowered many young people to begin a lifelong love of the arts.
CNAL/RCAA is delighted to recognize Peter Herrndorf's remarkable contributions to nurturing creativity through arts education as well as enhancing the cultural vitality of Canada.
2013
Soulpepper Theatre Company
Soulpepper Theatre Company is an artist-founded, classical repertory theatre company with a three-tiered mandate: to present the world's greatest stories in vital Canadian interpretations; to train a new generation of theatre artists; and to inspire and enrich youth through mentorship and access pograms. Soulpepper's staggering growth over the past decade remains unrivaled in Canadian theatre history. Since its inaugural two play season in 1998, the company has expanded to year-round programming of over 400 performances in a brand new state-of-the-art facility, the Young Centre for the Performing Arts.
Outreach programmes were part of Soulpepper's very first season, staking claim to the company's tri mandate of performing great classical theatre, artist mentorship and youth outreach right from the start. Soulpepper's work does not begin and end on the stage each night. It begins in community classrooms and continues in the rehearsal studios, as Soulpepper trains the artists of the future and positively affect the lives of young people. Soulpepper offers many free and accessible programs to youth in the community including Curtain Up with hands-on workshops and live performances, mentorship programs, youth rush tickets, in-school ESL programs, a youth leaders council, as well as summe and march break free programs.
2010
Manitoba Theatre for Young People and Founding Artistic Director, Leslee Silverman
From Italy to Australia, throughout Manitoba, on stages across Canada, and in its own performance space at The Forks in Winnipeg, Manitoba Theatre for Young People has been creating and presenting professional, innovative theatre productions for children and families for 29 years. Each season, MTYP reaches over 135,000 Manitobans through mainstage productions, touring shows, theatre school classes, drama resource workshops, and Aboriginal Arts theatre training classes. Originally founded in 1965 as Actors' Showcase, in 1982, it was reconstitute by incoming Artistic Director, Leslee Silverman, as a professional company devoted to theatre for young people. This revitalization saw the new company assume a national profile with MTYP redefining theatre for youth.
MTYP's artistry has been applauded not only as a theatre for young audiences, but also as an innovative and highly creative theatre company. MTYP contributes to the creation of new work while promoting Canadian and International work by hosting guest companies from around the world. From their home at the Canwest Performing Arts Centre, MTYP tours the province while delivering relevant and critical theatre in education programs plus a multi-level theatre school and young company. Under the passionate direction of Leslee Silverman, MTYP has grown to become one of the most respected professional theatre companies in Canada, for children, teens and adults.
2009
McConnell Family Foundation
Established in 1937, The J. W. McConnell Family Foundation grew out of Mr. John Wilson McConnell's deep commitment to the public good and his life-long involvement with non-profit and charitable work in Canada. The Foundation seeks to improve quality of life by building communities that help people to develop their talents and contribute to the common good.
The Foundation launched ArtsSmarts as a national initiative in 1998 to promote the active participation of young people in the arts. In the mid-1990s, cuts to educational budgets were forcing many schools to restrict students' exposure to and participation in the arts. In order to counter this trend, ArtsSmarts was created on the premise that engaging young people in artistic activity is critical to their evolution as creative thinkers and that a creative intellect is a crucial asset for young people as they navigate their way in the new knowledge-based economy of the 21st century.
Over the past 10 years, ArtsSmarts has provided seed monies to a wide range of local projects across Canada reaching more than 350,000 young people in 2,500 schools involving 5,000 artists, 14,000 educators and thousands of community volunteers.
2008
Dr. Walter Pitman O.C.
Throughout his long and distinguished career, Dr. Pitman has played a multiplicity of roles. As a student of history; a teacher at both secondary and post-secondary levels; a politician who was successfully elected to both the Provincial Legislature of Ontario, as well as to the House of Commons; a college administrator at Ryerson; Executive Director of the Ontario Arts Council; President of the Ontario Institute for Studies in Education; and more recently as the biographer of great Canadian artists such as Lou Applebaum, Harry Freedman, Mary Morrison and Elmer Iseler.
In the same way that he was inspired by artistic leaders such as those about whom he has written, he too has inspired and motivated those who share his passionate belief in the importance of exposing young minds to the arts. To ensure that lal children have the opportunity to experience the arts has been his life-long mission.
In 1992, he took the initiative to create the first International Conference on the arts and Education in Toronto, which attracted a great deal of attention. He continued to champion this cause and directed his energy to the importance of teacher training and in particular, the added value of encouraging specialist arts educators to work with artist educators.
This tribute is our way of demonstrating our collective thanks to you for keeping the flame alive and inspiring us to take on the challenge of advancing the importance of arts and learning for the benefit of all Canadians.