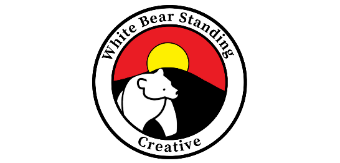 Who is White Bear Standing Creative?
White Bear Standing is a name that was given to Artist Sherry Crawford during a Shake Tent Ceremony many years ago. Sherry is a proud member of the Kijicho Manitou Madaouskarini Algonquin Nation and is a Helper/Social Worker, trained through First Nations Technical Institute, Tyendenaga Mohawk Territory, Tyendenaga, ON.
For the past 20 odd years, Sherry has been learning about her own Algonquin history and culture through Ceremony, Workshops, Elders Gatherings, Conferences & Research. During this time Sherry has also been painting and drawing and has found many of her Teachings make their way into her Art. We also have a beautiful ART Collection which includes paintings by some of Canada's most prominent INDIGENOUS Artists, Stone Carvings, Quilled Bag, Painted Stones, Beaded Necklaces & More! You need to Experience this unique
One of a Kind' Art/Education Show & TELL info Session!
It's time, we know you are ready and we have the perfect solution!
White Bear Standing will come to your Organization Boardroom or Classroom and share her Art and Heart!
Sherry has developed and shares a very important visual demonstration with a Circle of Stones.
This immediately causes the viewer to understand how Colonization and the residential school system has deeply affected our Indigenous brothers and sisters.
Sherry talks about some of the tools that she finds helps her to deal with the new 'knowledge' that keeps coming to light, and how she uses them in her day-to-day life such as the Medicine Wheel/Four Directions, the 7 Grandfather Teachings, the Talking Stick and Smudge.
We will come out, set up our Beautiful ART Display. Sherry creatively and most importantly, respectfully, demonstrates and shares important information in a Non-Judgemental manner to help your employees and students have a better understanding of what happened and how they can help change the future!
What We Offer in our 2 Hour Workshop:
Art Display
Floyd Kuptana – Inuk Carver *
David A. Greene – 6 Nations Carver
James Simon Mishibinijima – Ojiibwe Painter
Norval Morrisseau – Ojiibwe Master Painter *
Gord 6 Pipes – Lakota Beader/Quillworker
Sherry Crawford – Algonquin Artist/Painter
Art Participation / Exploring your Inner Child
Each participant receives an Original White Bear Standing Coloring Page. Choose Markers or Pencil Crayons. Each person will take the time to remember what it's like to be a child, color and have a little fun!
Sharing my Anishinaabe teaching on the Smudge and the Sacred Medicines used.
Each Participant will be offered the opportunity to Smudge but are not required to as part of this sharing session.
Sharing my Anishinaabe teachings of the Seven Grandfathers.
Love, Respect, Wisdom, Truth, Honesty, Bravery & Humility. (7 Puzzle paintings)
Sharing my Anishinaabe teaching on the Talking Stick/Feather
We pass around the Talking Stick or Feather for a quick 'check in'. Name and how do you feel?
Sharing my Anishinaabe teaching on the Medicine Wheel:
Emotional/Spiritual/Mental/Physical – Four Directions
Tips on how to use the Medicine wheel to make decisions and Understand the Cycle of life for all things!
10 Minute Break
Sharing the teaching on Residential Schools – THE CIRCLE OF STONES!
This information is clear, and visually demonstrates how our Communities were affected by the residential school system and how we can make positive change through Education & Action! Warning! May cause viewer to say " I Get It", feel Empathy and evoke deep feelings of 'wanting to help' ! Let's get Clean water, reasonably priced food & services and safe housing for everyone!
Closing statements.
We will pass around the Talking Stick or Feather for a 'check out'.
COST: $ 1500.00 /2 HOUR SESSION
+ $.50/mileage & Accommodations if required!
What you receive : Coloring Pages for Session.
White Bear Standing Art print.
Eye-opening, Life-changing Information!
LIMITED TO 20 PARTICIPANTS PER 2 HOUR SESSION
(BOOKING UP TO 3 SESSION/DAY)
Full Coloring Books will be available for sale! $20.00 (10% discount on orders of 100 or more!)