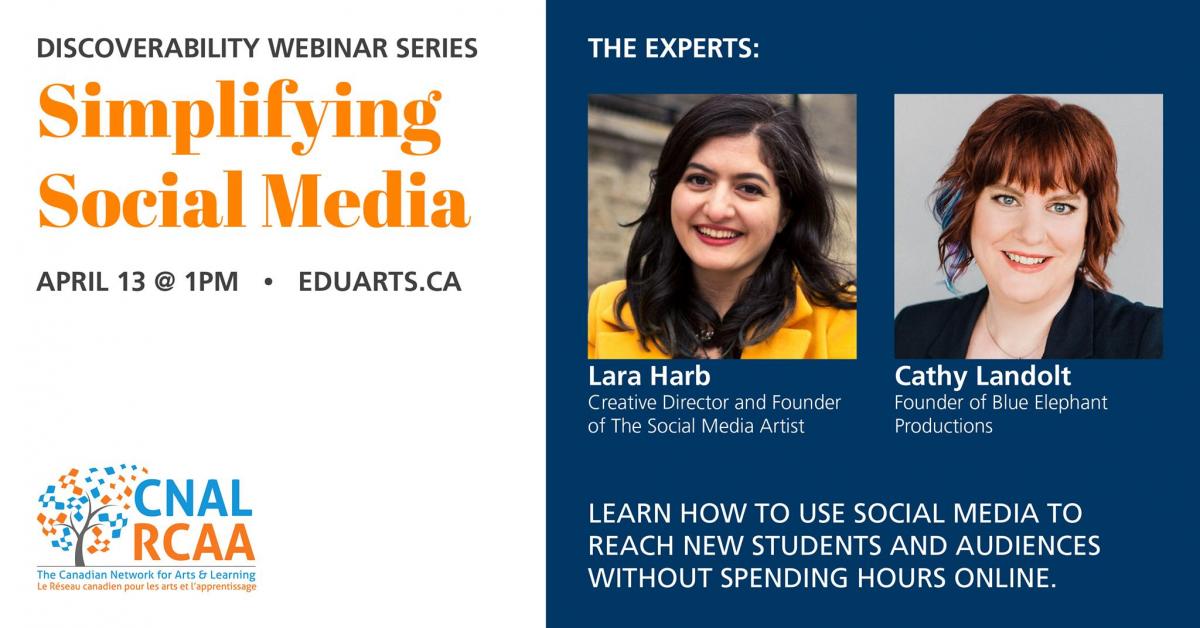 On April 13th The Canadian Network for Arts and Learning held an instructive webinar with two of the sector's most prolific social media specialists. They demystified the process of creating compelling content, the best practices in posting across multiple social media platforms, advertisements, measuring your engagement, creating a simple social media calendar and more. See the full video of the webinar below.
Resources provided by Lara Harb - Creative Director and Founder of The Social Media Artist
View her full presentation here. Lara also provided a template for a content calendar, find it here.
Lara is a social media strategist and instructor teaching at institutions like Humber College and Continuing Studies at the University of Toronto. She has developed and facilitated several online and in-person courses and loves sharing knowledge. Her company, The Social Media Artist helps busy business owners save time on marketing so they can focus on what they do best, creating! She provides training, social media management and consulting to artists and creative entrepreneurs. From local voice instructors to international food brands companies, she has worked with a variety of brands to help them tell their story online.
Resources provided by Cathy Landolt - Founder of Blue Elephant Productions
View her full presentation here. Cathy also provided a template for a content calendar, find it here.
​Cathy helps her clients transform their vision into a digital reality; leading teams through website builds/rebuilds of varying sizes and scope, and training teams to maintain and update sites using various proprietary and commercial systems (Wix, WordPress, SquareSpace). Cathy has an extensive background in writing for web and email, creating and executing digital and print marketing campaigns. She writes for social media campaigns, designs visual assets, and has many years of process and project implementation. She has branched out into social media coaching and auditing accounts with clients to analyze performance and optimization.
We are grateful for the support of the Canada Council for the Arts and the Azrieli Foundation for the Discoverability Webinar Series.


We are also grateful to Blue Elephant Productions for the in-kind support for this webinar.