Organization / Submitter:
Event Date and Time:
Thursday, September 17, 2020 - 12:00pm

to

Thursday, December 10, 2020 - 1:00pm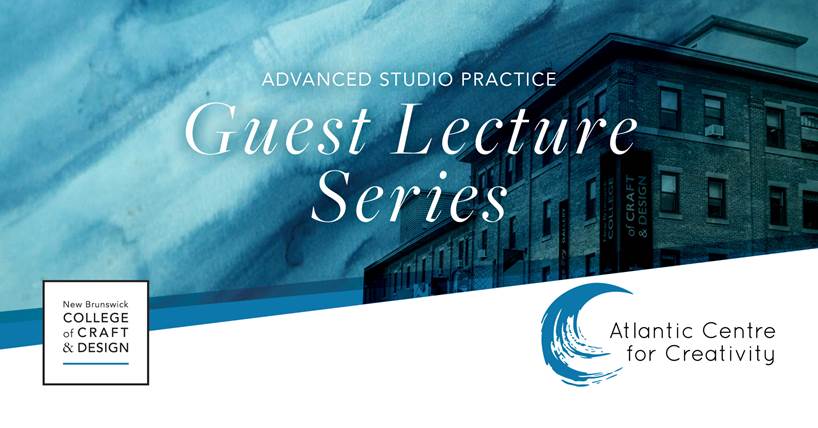 Advanced Studio Practice's Guest Lecture Series is partnering with the Atlantic Centre for Creativity to provide a virtual experience to the annual series. The purpose of the Guest Lecture Series is to model successful contemporary practice to our students and to inform, inspire and ignite art and design dialogue and engagement in the greater public community. They are professional talks delivered by invited guest speakers on art, design and related visual practices.
THE ASP GUEST LECTURE SERIES FOCUSES ON NEW BRUNSWICK AND PROVIDES
A platform for the presentation and advancement of professional artists, designers and fine craft practitioners.
A time for dialogue about ideas and opportunities in the fields of contemporary practice.
A celebration of creative and cultural riches that we hold in Atlantic Canada.
These noon-hour sessions celebrate the creative, cultural and academic achievements of artists, designers and fine craft practitioners.
The series is free and open to the public.
Join the Series Here on Facebook.
Watch the lectures on Zoom at this link: bit.ly/guest-lecture-series
For further information or to receive updates, please contact: Jean.Rooney [at] gnb.ca
FULL DETAILS ON THE LECTURE CONTENTS CAN BE FOUND ON THE NBCCD WEBSITE
SEPTEMBER 17 Dr. John Leroux
SEPTEMBER 24 Mary Stewart
OCTOBER 1 Tony Merzettti
OCTOBER 8 Dr. Casey Burkholder
OCTOBER 15 Dr. Danielle Hogan
OCTOBER 22 Gillian Dykeman
OCTOBER 29 Thaddeus Holownia
NOVEMBER 5 Jillian Acreman
NOVEMBER 12 Charles Gaffney
NOVEMBER 19 Elizabeth Demerson
NOVEMBER 26 Tracy Austin
DECEMBER 3 Peter Thomas
DECEMBER 10 Jackie Bourque